A Commitment to Excellence in Synthetic Lubrication


The First In Synthetics"®
---

Attention Retailers!
Amsoil has proven to be a profitable product line within many types of retail outlets. (Quick Lubes, Parts Stores, Car Dealerships, Hardware Stores, Marinas, Motorcycle Shops, etc.) Synthetic Solutions will provide you with the customer service you deserve and expect. We are only a phone call or email away.
Add Amsoil to your product line and increase your profit margins!

Flagstop Corporation Stocks the AMSOIL line to gain a valuable edge over the competition!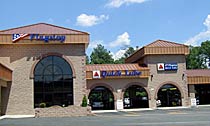 The Synthetic Solutions client Flagstop Corporation, located in the Richmond, VA area, owns and operates a chain of 7 premier quick lubes. The quick lubes stock the complete line of AMSOIL products, and specialize in the 7,500 mile oil change plan provide by the XL selection of motor oils. Flagstop recognizes that AMSOIL gives the a competitive edge over the competition, as well as offering the option of extended drain intervals and the premium protection afforded by superior AMSOIL products.
If you are a store front operation, then establishing a retail account with Amsoil will allow you to purchase products directly from the manufacturer.
1 Higher Profit Potential

Amsoil synthetic motor oil is a premium product that commands a premium price. Consumers expect to pay more for a higher quality product, and the retail profit margins increase your bottom line.
2. Satisfies Customers Wants

GM consumer interest surveys indicate that motorists desire the convenience of extended oil drain intervals. Now you can offer with confidence the convenience of extended drain intervals with Amsoil. With regards to wear protection, fuel economy, and high and low temperature performance, there is no better motor oil on the market than Amsoil.
3. Leadership Products

In 1972, Amsoil became the world's first API-Certified and fully sequence tested synthetic motor oil for automotive applications. To this day, Amsoil product performance is second to none.
4. Technical Service & Support

AMSOIL has a wide array of technical literature and sales tools to assist you in educating your employees and customers with regard to the benefits of synthetic lubrication. Every account also has a personal Servicing Dealer who is able to provide assistance and insight when needed.
6. Broad Product Line

AMSOIL specializes in manufacturing a wide range of fuel efficient, long life lubricants for all manner of applications. In addition to motor oils, AMSOIL markets synthetic auto-matic transmission fluid, gear lubes, hydraulic and compressor oils, greases, as well as a family of filtration products for every kind of application. The AMSOIL product line includes excellent fuel additives; biodegradable antifreeze and a family of automotive car care products.
7. Less Waste Oil

Our program not only reduces disposal costs, it also cuts down the amount of time devoted to managing oil and filter disposal processes. These benefits flow directly to your bottom line. Extending oil drain intervals has significant environmental benefits, the most obvious being less waste oil and fewer oil filters to dispose of.
8. Low Cost Start-Up

AMSOIL products are an add-on product line that opens up increased profits with out significant risk. Profit minded operators soon recognize their earnings potential with AMSOIL synthetic motor oils.
9. An Ideal Match

AMSOIL products are an ideal match for your business. By offering both your existing products and AMSOIL, you can satisfy the full range of customer lubricant needs. Some customers and their vehicles are not candidates for premium synthetic motor oils, and some passenger car owners are concerned only with initial price rather than long-term value. For these customers, you'll still want to be sure to have your standard motor oil on hand. With AMSOIL, however, you can now offer your quality conscious customers a high quality alternative to their traditional lube service.
10. Advertising and promotional support

AMSOIL provides a wide range of supporting promotional activities.

Sponsors national and grassroots racing teams to reinforce the AMSOIL message regarding the superior performance of synthetics.
National magazine advertising campaigns.
Targeted PR designed to increase AMSOIL name brand awareness.
Point-of-Purchase materials to increase interest in AMSOIL.
Sales literature
11. The Experience of Others

"I have customers who come thirty miles to have my shop put AMSOIL in their cars. It 's a great indication of people 's increased appreciation of synthetics and high quality products."
- Wayne Folske, One Stop Lube Shop, Oshkosh, WI
If you are interested in offering the Amsoil product line through your business, Synthetic Solutions will send you an account/credit application along with a product catalog and relevant price lists.
To receive an information package from Synthetic Solutions, please fill out the form below and click the Submit button.