409,000 Miles Without an Oil Change
Using AMSOIL Synthetic 15W-40 Heavy Duty Diesel and Marine Oil this 1990 Mack E7-400 owned by Haywood Gray went 409,000 Miles Without an Oil Change !!
Read how
AMSOIL, the Proven Leader in Diesel Motor Oils
In 1972, AMSOIL INC. introduced AMSOIL Synthetic 10W-40 Motor Oil and became the first company in the world to market and manufacture an American Petroleum Institute (API) rated synthetic motor oil. In 1975 AMSOIL introduced a synthetic diesel oil, and with it, coined the term "extended drain intervals."
Since then, AMSOIL synthetic diesel oils have been used as extended drain lubricants in transportation, equipment and stationary engine applications. In every industry, they have proven effective in improving engine durability and fuel economy. AMSOIL customers report significant savings realized through reductions in downtime, parts replacement, lubricant replacement, lubricant disposal and fuel consumption. Fleet demonstrations and independent testing confirm what AMSOIL customers report: using AMSOIL synthetic diesel oils saves money.
You can't buy better protection for your hard-working diesel truck than AMSOIL synthetic motor oil. Whether you want the fuel economy benefits and ultra-cold temperature protection of a diesel-formulated 5W-30 or the tried-and-true protection of a 15W-40, you just can't beat AMSOIL synthetic motor oils.
AMSOIL Series 3000 Synthetic 5W-30 Heavy Duty Diesel Oil
In a head-to-head comparison, Series 3000 provided better wear protection than Delvac 1, Delo 400, Rotella T and Cummins Premium Blue. Independent laboratory testing shows up to 43 percent less wear with Series 3000 than with the other oils tested.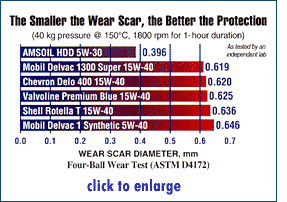 Series 3000 also offers 12 TBN protection for serious long-term acid control and a stay-in-grade formulation to protect moving parts from high-temperature contact and wear throughout the oil's service life.
Series 3000 is formulated for significant fuel savings, boosting fuel economy far beyond what it would be with a conventional 15W-40 oil.
For easy cold temperature starting and dependable cold temperature protection, Series 3000 can't be beat. It's ideal for northern tier diesel owners.
Series 3000 is formulated for gasoline engines too, making it the ideal motor oil for multi-vehicle households or fleets.
Synthetic 15W-40 Heavy Duty Diesel and Marine Oil
AMSOIL Synthetic 15W-40 Heavy Duty Diesel and Marine Oil has been proven superior to conventional oils in fleet demonstrations and count-less miles of over-the-road use.
AMSOIL Synthetic 15W-40 Heavy Duty Diesel and Marine Oil increases fuel economy, reduces wear rates, provides extended drain service and saves truckers significant money.
AMSOIL Synthetic 5W-40 Premium Diesel Oil
AMSOIL Synthetic 5W-40 (DEO) is the premium choice for API CJ-4 emission quality diesel oil required by model year 2007 and newer diesel engines. It delivers extraordinary lubrication in diesel engines found in commercial, fleet and personal vehicles. Built with the latest additive and synthetic base oil technology, AMSOIL Synthetic 5W-40 Diesel Oil exceeds the higher performance demands of modern engines. It withstands the stress of heat, soot and acids to help prevent deposits, corrosion and wear. AMSOIL Synthetic 5W-40, with its broad viscosity range, is ideal for winter and summer use. It resists breakdown and can extend drain intervals when monitored by oil analysis.
Semi-Synthetic 15W-40 Gasoline & Diesel Motor Oil
AMSOIL Synthetic Heavy-Duty Diesel and Marine 15W-40 Motor Oil and AMSOIL Synthetic Blend 15W-40 Motor Oil have been put to the test over millions of miles in heavy-duty trucks.
They are proven to provide unsurpassed engine protection, even when they are used much longer than conventional diesel oils are used.
Synthetic SAE 30Diesel Motor Oil
AMSOIL Synthetic SAE 30 Diesel Motor Oil offers outstanding high and low temperature service and protection. Its low temperature fluidity is superior to that of conventional 15W-40 motor oils. Its shear stability, low volatility and high temperature film strength make it ideal for high-stress applications.